La influencia de Panini en los comparatistas
María Elena Sánchez Arroba

Universidad Ricardo Palma, Lima, Perú; El Colegio de México, México
Palabras clave:
Lingüística histórica, Filología comparada
Resumen
Un factor que contribuyó al surgimiento de la lingüística comparativa en el siglo XIX fue el interés por el estudio del sánscrito, la antigua lengua literaria de la India, cuya gramática había sido descrita ya desde el siglo IV A.C. por numerosos gramáticos hindúes, entre los cuales destaca Panini.
Descargas
La descarga de datos todavía no está disponible.
Métricas alternativas
Referencias bibliográficas
ALLEN, William Sidney
1953 Phonetics in Ancient India, London, Oxford University Press.
1955 "Zero and Panini", ludían Linguistics, 16, pp. 106-113.

ARENS, Hans
1975 La Lingüística, trad. José María Díaz Regañón López, Madrid,Credos,2 t.

BAHULIKAR, Saudammi
1973 "Concerning the Structure of Panini's Astadhyayi", Judian Linguistics,34 2,pp.75-99.

BARLINGAY,S.S.
1965 A modern introduction to Indian Logic, N.Delhi, National Publishing House.

BENVENISTE, Emile
1971 Problemas de lingüística general, trad.Juan Almela,México,Siglo XXI.

BLOOMFIELD, Leonard
1964 Lenguaje, trad. Alma FlorAda de Zubizarreta, Lima, Universidad Nacional Mayor de San Marcos.
1929 sobre Bruno Libich, Kondornanz Panini-Candra, Bresiau, Verlagvon M.&H., Marcus, Language,5,pp.261-216.
Grammaire Comparée desLanguesIndo-européennes,trad. Michel Bréal,París,Imprimerie Impériale,5 ts.

BOFP,Franz
1846 Grammaire Comparée des Langues Indo-européennes, trad. Michel Bréal, París,I mprimerie Impériale,5 ts.

CARDONA, Georg
1976 Panini: a survey of research, The Hague, Mouton& Co.
1988 Panini, his work and its traditions, N. Delhi, Motílal Banasidass.

DIDERISCHE. Paúl
1974 "The Foundation of Comparative Linguistics: Revolution or KIPARSKY Continuation?", en Studies in the History of Liguistics. Traditions and Paradigms, ed. Dell Hymes, Bloomingon, Indiana University Press, pp. 277-306.

KIPARSKY
"From Paleogrammarians to Neogrammarians",enStudies in the History ofLinguistics Traditions and Paradigms, pp. 331-345.
1979 Paniniasa Variationist,Cambridge,MassachussetsInstitute of Technology.

MARTINEAU, Roussell
1966 "FranzBopp",en Portraits of Linguistics. A Biographícal Source Book for the History of Western Linguistics, ed. Thomas A.Sebeok.Bloomington,Indiana UniversityPress, pp. 200-206.

MATTHEWS, P.H.
1974
MISRA, Vidya 1966
PANINI 1987
1991 Morphology,An introductiontothetJieoryofwordstructure, New York,Cambridge UniversityPress.

MISRA, Vidya
1966 The descriptive technique ofPanini,The Hague, Mouton.

PANINI
1987 Astadhyayi of Panini, trad.Sumítra Mangesh Katre,Austin, University of Texas Press.
1991 Paninian Studies, ed. Madhav Desphande, Michigan, University of Michigan.

PEDERSEN, Holger
1983 A Glanceat the History ofL inguistics with particular regard to the hisíorical study of phonology, trad. Caroline C. Henriksen,ed.Konrad Koerner,Amsterdam,John Benjamins Publishing Company.

PIMBORG, Jan
1975 "Classical Antíquity",Curren tTrends in Linguisíics, pp.69-126.

RENOU, Louis
1969 "Panini", Current Trends in Linguisíics, 5, pp. 481-498.

ROBINS, R.H.
1987 Breve Historia de la lingüística, trad. Enrique Alcaraz Varo, Madrid, Paraninfo.
ROCHES, Rossane
1969 "The concept of verbal root in Indian grammar: á propos of Panini 1.3.1.", Foundations of Language, 5, pp. 73-82. 1975 "India", Current Trends in Linguisíics, 13, pp. 3-67.

ROUSSEAU, Jean
1980 "Flexión et racine: Trois étapes de leur constitution: J.C. SCALISE, Sergio 1987
Adelung, F. Schlegel, F. Bopp", en Progress in Lingiiistics Historiography, ed. Konrad Koerner, Amsterdam, John Benjamins North América, pp. 235-248.
Morfología generativa, trad. José Pazó, Madrid, Alianza Universidad.

SHEFTS, Betty 1961
Grammatical Method in Panini, Mis treatment of Sanskrit Present Stems, New Haven Connecticut, American Oriental Society.

SINGH,Rajendra& FORD,Alan
"Flexión, derivation et Panini", en Progress in Linguisíics,

STAAL, J.F.
Historiography, pp. 323-332.
"The Origin and Development of Linguisíics in India", en Studies in the History of Linguisíics Traditions and Paradigms, pp. 63-74.

VAN NOOTEN, B.A.
1967 "Panini'sreplacementtechniqueand theactivefinitaverb",
Language, 43, pp. 883-894.

VIERBUNG, Petar
"The Background to the Linguistics Conceptions of Franz Bopp",en Portraits of Linguistics. A Biographical Source Dock for the Histoiy of Western Linguistics, pp. 221-250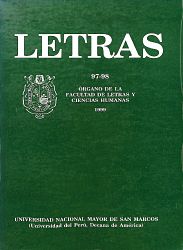 Cómo citar
Sánchez Arroba, M. E. (1999). La influencia de Panini en los comparatistas. Letras (Lima), 70(97-98), 185-209. https://doi.org/10.30920/letras.70.97-98.13
Derechos de autor 1999 Letras (Lima)
Esta obra está bajo licencia internacional
Creative Commons Reconocimiento 4.0
.
Este obra está bajo una licencia de Creative Commons Reconocimiento 4.0 Internacional